Women's Club
Mission Statement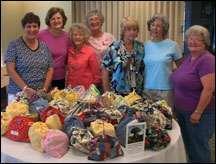 The corporation's overall mission shall be to help create a better life and community for individuals and families in Volusia County through volunteer services, financial support and educational activities, to raise funds to assist those who are in need, to improve and advance the cause of community service in the DeLand area, and to obtain public involvement and support for community need.
Membership
Beginning March 1, 2018, dues are $20.00 per year, which runs from March through February. You can join the Club by paying the dues at one of our meetings or at the Resident Desk (cash or check only). If you join in the fall or winter, your renewal will still be in March of the next year. Visit a meeting at any time by signing up for the meeting and paying for the meal - then make a decision regarding membership!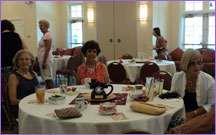 Meetings
Meetings are held on the 2nd Wednesday of the month at the Clubhouse Magnolia Ballroom and include luncheon and guest speaker. There may be some variation in meeting dates and times based on the program, speaker availability, etc.
**NEW**
Tickets for the Annual Charity Auction have sold-out!! A waiting list will be maintained. Looking forward to a fun evening!
LIVE AUCTION ITEMS - NOVEMBER 14 - BRING YOUR CHECKBOOK!!
1) Atlantic Terrace Condo – Value is $1700, 2 bedroom, 2 bath plus sofa bed, June 5-11 2020
The Atlantic Terrace Condo is in Daytona Beach Shores.
2) Whole House Water Filtration System – Value is $1600, installation outside included
3) New Smyrna Beach House – Value is $1400, private home sleeps 6 only .2 miles from the Beach
4) Bay Hill Golf Outing – Value is $1000, Golf 4-some at Arnold Palmer's Bay Hill Club & Lodge plus $200 for extras
5) Shingle Creek Getaway – Value is $575, 2 night stay plus admission to The Wheel, Wonderworks AND a $100 card for extras Shingle Creek is in the International Drive area near Universal.
6) Disney Old Key West Timeshare – Value is $1400, 3 nights, 2 queen beds plus kitchenette, March 23, 24, 25
7) His & Her MysteryBoxes – Value is $600 each, contents to be discovered…
The Women's club Winter Warm Clothing Drive begins Saturday, November 16. A large box will be in the craft room for drop-off of items. Items for men and women may include jackets, jeans, gloves, hoodies, flannel shirts, stocking caps, sweatshirts, tennis shoes, scarves, sweatpants, boots, socks, large-size throws, blanket, comforters and new socks. Distribution to the community's homeless and needy will be made by the Mercy Hour ministry at First United Methodist Church in late November and December.